Comparison: 2020 Nissan Altima vs 2020 Toyota Camry vs 2020 Honda Accord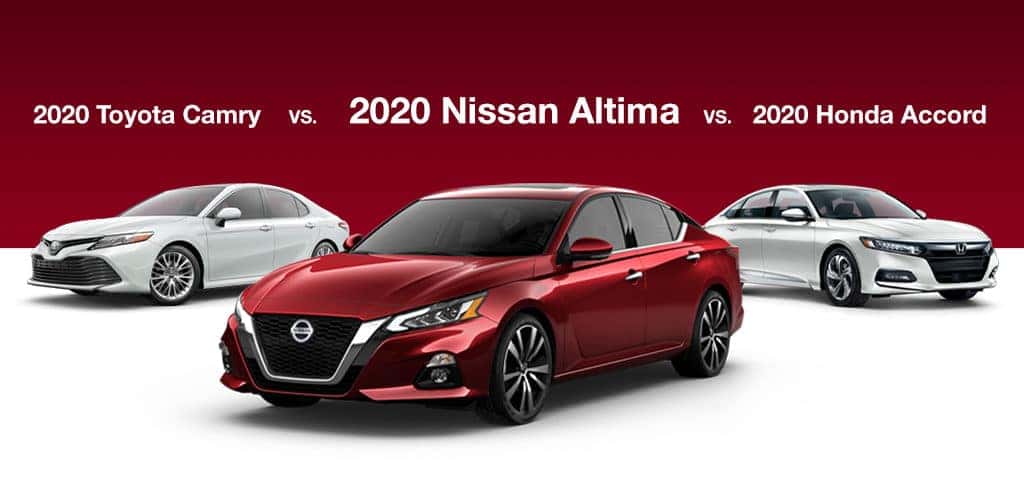 In a world crowded with SUV's and crossovers, there's still a need for mid-size sedans which represent millions of annual sales. Nevertheless, there are reasons why some prefer the sedan – Fuel Economy, Seating Position, Visibility, Styling and they fact that they are proven platforms. Look no farther than arguably the 3 pinnacles of mid-size sedans for 2020; 2020 Nissan Altima, 2020 Toyota Camry and 2020 Honda Accord. In our comparison we will lay out features and unique qualities of each vehicle to compare apples-to-apples for you to see which will fit your needs the best. Find out more about trim levels and standard features here.
2020 Nissan Altima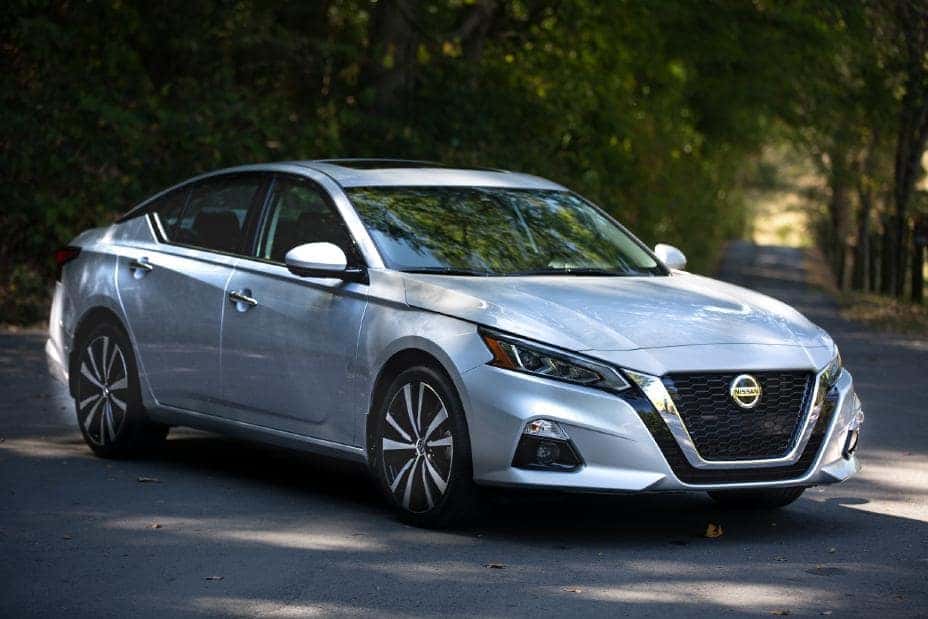 Great value loaded with technology and best in group driver assistance tech. Easy to use, best in group crisp 8-inch infotainment system. Comes standard with Apple Carplay/Android Auto. Only non-luxury vehicle in its class to offer lane centered steering assist completely to a stop. New CVT (Continuously Variable Transmission) transmission is quick and responsive, making the 2020 Nissan Altima light and fun. Pairs well with the 2.5L naturally aspirated inline 4. Optional AWD drivetrain, Optional 248hp VC turbocharged engine (Variable Compression, Worlds first production-ready variable compression turbo inline 4-cylinder!), however they cannot be partnered together. Cabin noise levels are quiet. Interior quality is noted to be nothing out of the ordinary. Not as much trunk/storage space per usual for a Nissan.
2020 Toyota Camry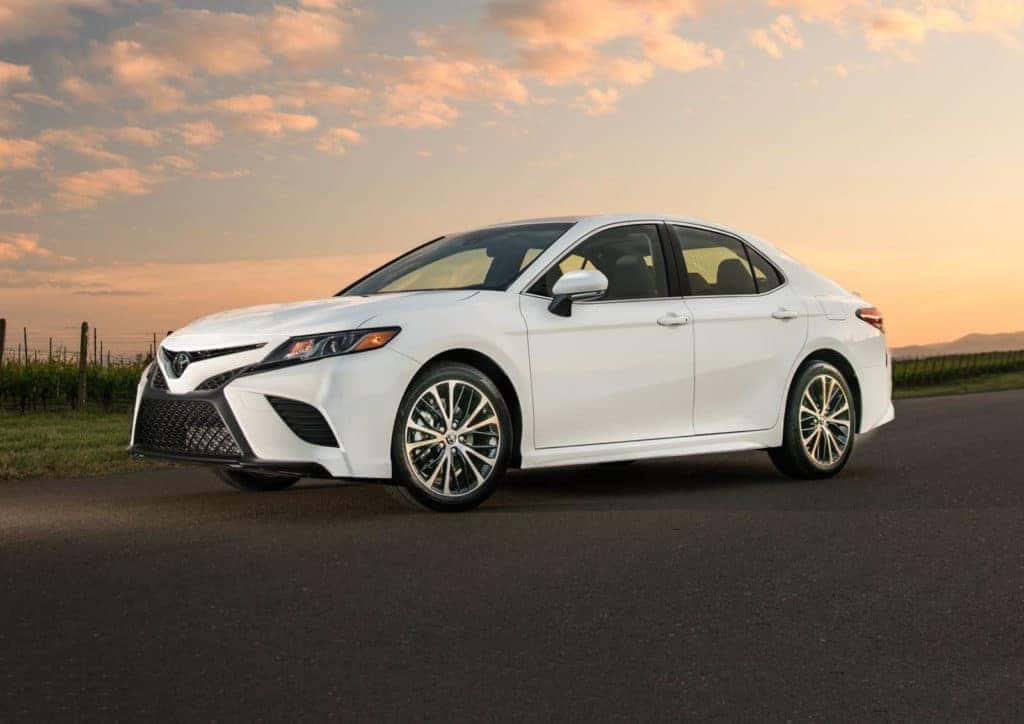 High seating position with lower dash position makes for great visibility. The 2020 Toyota Camry is the most athletic Camry yet. Ride is smooth and well dampened for the average daily commute, but doesn't compromise predictable and precise handling. 203hp 2.5L inline 4 engine and traditional 8-speed automatic transmission cooperate nicely to provide plenty of power for accelerating and passing with smooth shifts. Slow, outdated, clunky infotainment system. Lacking tech – Apple Carplay/Android Auto do not come standard. Cabin noise is unusually excessive for a Toyota Camry, even at idle, but especially on the highway. Cramped back seat, head room is above average thanks to a lower seating position but leg room is congested.
2020 Honda Accord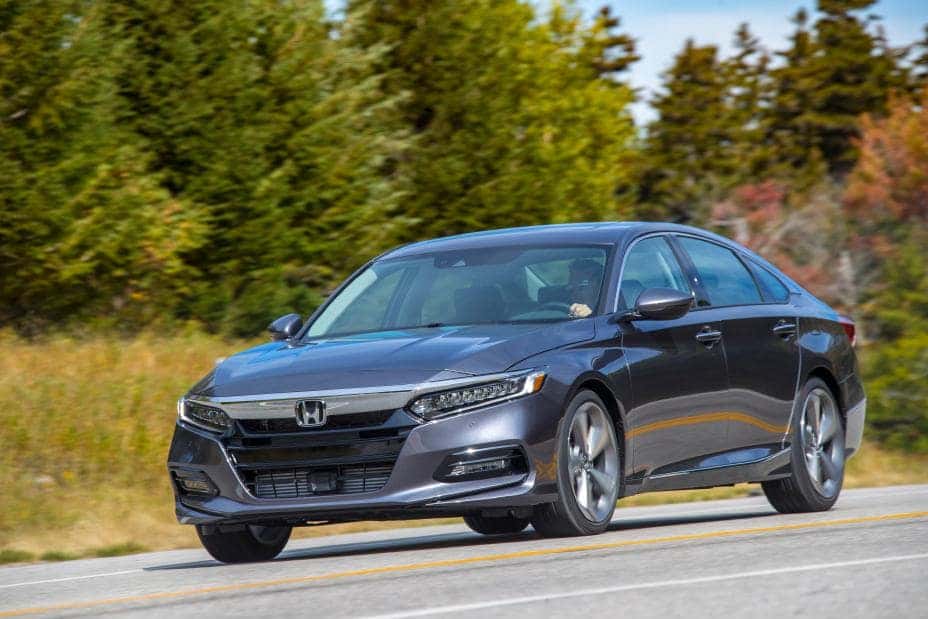 Most cargo space of the 3 with 16.7 cubic feet compared to the 2020 Nissan Altima at 15.4 cubic feet and the 2020 Honda Accord at 14.1 cubic feet. Least cabin noise, probably due to most insulation and noise dampening. Lots of rear seat legroom, but not as much headroom as the 2020 Toyota Camry thanks to the slanting roof line. Smoothest ride and handling of the group – drives like a luxury with a heavy feeling to steering. Thoughtful interior quality and finish. Decent infotainment system, much like a smart phone with apps, not quite as user friendly and easy to use as the 2020 Nissan Altima. Transmission is reported to be unresponsive, laggy and loud. Highest price – provides least value. Low sporty seating position which compromises visibility with a higher dash console, which is unusual for a Honda.
In summary, the 2020 Nissan Altima is best for those looking for a mid-size sedan with excellent value, loaded with technology and safety features that generally come in luxury class competitors. The 2020 Toyota Camry is best for those pursuing a mid-size sedan with a balance of athletic capability and visibility. The 2020 Honda Accord is best for those seeking a mid-size sedan with a luxury-like interior accommodating plenty of space. Fuel efficiency figures between all 3 sedans were insignificantly close, and consequently was not an attributed factor into comparative reviews. Looking for a technical comparative breakdown? Look no further, click here. At Hello Nissan of Valencia near Santa Clarita, CA our client advisors are happy to answer all of your questions and help you find the right vehicle. We don't sell you on vehicles, we find the perfect vehicle for you. Call, Click or stop in to our Santa Clarita showroom to find the car that's perfect for you and your family.